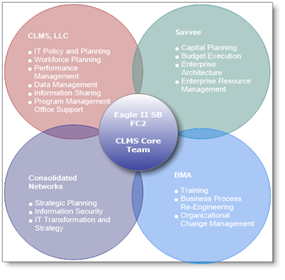 CLMS Core Team for DHS Eagle II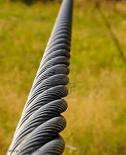 As the strength of a rope is made of many strings, the CLMS core team is made of qualified, responsive, and proven small businesses. Our core team shares the common threads of trust, respect, and integrity which reinforces our ability to come together as a stronger whole. Our core team members work together to take on challenges that are larger than any one small business can manage alone. Our success comes from the complementary strengths of the team and an inter-company bond that evolved from our past experience working together.
At the center is our prime, CLMS, the leader of this team who has successfully delivered IT Program Support Services to the Federal Government since 1997 and DHS since inception. CLMS adds the collective experience of three small businesses to the core team, with the ability and experience to support DHS across a broad scope of requirements, providing knowledge of leading-edge technologies and project management best practices. CLMS core teammates are Savvee Consulting, a PACTS FC1 prime, Consolidated Networks Corporation, an experienced IT engineering program management firm, and Business Management Associates, an organizational change and process improvement specialist. Each teammate was selected based on their FC2 SOW strengths and will lead the team on task orders in those areas. All members of this team are within the NAICS size standard of $25 Million and are participating only in FC2. Historically, the scope of services in FC2 have been performed by small businesses due to the potential for conflict of interest involving the large companies providing IT solutions at DHS. Our team brings small businesses with expertise in each of the FC2 scope areas and superior past performance delivering program management support services.
Task Orders
CLMS Program Support Services at DHS
Statistical Data and Analysis Support for the Office of Immigration Statistics (OIS)
The objectives of this task order are to provide technical guidance and support services to the Office of Immigration Statistics with respect to immigration data development and analysis, statistical methods expertise, and data management and documentation. CLMS provides statistical data analysis support services that include development and implementation of statistical analysis in a mainframe and PC environment, technical support in project-specific software and applications, such as SAS and JCL, and data management and documentation.
DHS HQ Consolidation at St. Elizabeths Campus (STE PMO) for OCRSO
Over the next ten (10) years, the DHS will consolidate its key leadership, policy, management, programs, and mission execution personnel on the St. Elizabeth's East and West Campuses (St. E's), which are located in South East Washington, DC. Twenty-two (22) component agencies of DHS will be part of the consolidation. DHS plans to move approximately 14,000 employees onto the campus. Under its GSA MOBIS schedule, CLMS was awarded a contract to build a core support Project Management Office (PMO) to initiate and establish a cohesive and integrated program coordination team to support the DHS HQ's Consolidation, which includes St. Elizabeth's Technology Integration Programs (TIP). Upon award of the St. Elizabeth's TIP contract, DHS will commence working with an IT systems integrator that is delivering leading edge solutions that clearly show today transitioning into tomorrow and that support all security levels and technologies. The solutions will be extremely flexible and be able to support the simultaneous life cycles as each phase is executed, along with the inevitable organizational changes and reorganizations that will take place. In order to effectively coordinate, evaluate, and communicate this new leading edge technology to its customers, CLMS is contracted to provide technology and management consultants and PMO support on a just-in-time, as required basis, to support the management of the TIP contract and consolidation efforts.
Federal Protective Service (NYC and Puerto Rico)
CLMS provided program management support services to assist in the management and administration of two FPS Regional Program Offices located in New York and Puerto Rico. CLMS's services include, but are not limited to, providing administrative support, budget management and technical.
Points of Contact to provide information on customer satisfaction with the services performed:
OIS – Stephanie Willis (COTR), Stephanie.Willis@dhs.gov
STE PMO – Abigail Fiske (TPOC), Abigail.fiske@hq.dhs.gov
FPS – Marie Killian (CO), Marie.Killian@ice.dhs.gov
Quality Assurance
Our Quality processes to support the EAGLE II FC2 contract and task orders are clearly visible and measurable by DHS. With quality as forethought, the team is positioned to exceed performance metrics provided in awarded task orders. Our standard QC procedure is to develop and tailor a Quality Assurance Plan (QAP) for each task order that clearly identifies and documents quality metrics and the process through which QC will be delivered to the project. Our team has many templates in our knowledge base which are available for customization to address unique requirements as they relate to DHS's needs, technologies, monitoring tools, and reporting requirements. The process addresses both task order support activities as well as work products including deliverables, reports, and other products produced under the task order. The QAP delineates how deviations from the desired quality are captured, documented, and resolved, rectifying product or process deficiencies quickly and efficiently.
Point of Contact for information related to IDIQ contracts:
Teaming Coordinator's Point of Contact:
Subcontractors/Core Teammates
Consolidated Networks Corporation
Founded in 1998, Consolidated Networks Corporation is an employee-owned emerging small business providing network engineering and IT services to the government and commercial clients. CNC currently has offices in California, Oklahoma, and Virginia. Our core competencies include voice, video, and data network design and implementation, telecom engineering, physical layer installation (fiber, copper, etc…), network administration and management, performance and security optimization, and IT outsourcing. Consolidated Networks provides thorough and comprehensive consulting services. By delivering seamless integration and implementation plans that clarify your options, we provide state-of-the-art technical alternatives to meet your timeframes, philosophies, short-term and long-term strategic plans, and budget objectives. More importantly, we provide full service implementation support.
Savvee Consulting Inc.
Savvee provides many of the services outlined in EAGLE II FC2 to multiple DoD clients and in so doing has gained invaluable insight and experience in the manner in which the government conducts business. Savvee's experience in IT Governance spans the many disciplines that comprise IT Policy and Planning Support. These include, but are not limited to IT Policy and Planning, Capital Planning, Strategic Planning, Budget Execution, Performance Management, Enterprise Architecture, Information Sharing, Training, Enterprise Resource Management, Business Process Re-engineering, IT Transformation and Strategy, Organizational Change Management and Program Management office support. Savvee's experience in these areas is practiced, tested, and proven in a real world environment.
Business Management Associates
Business Management Associates, Inc. (BMA) is a customer-oriented management services solutions provider with Federal and State government business process and training experience. With 20+ employees and $2.5M in annual revenues, BMA, certified 8(a) by the Small Business Administration through 2015, is a woman-owned, small disadvantaged firm that offers practical, measurable, and value-added solutions to government agencies and business entities. Business Management Associates provides services in the area of business analysis/process management, workflow analysis, Six Sigma and LEAN methodology, training development/delivery, human capital management, both strategic and tactical, and we have a somewhat unique core competency in the Law Enforcement sector. BMA specializes in integrating people and process with Six Sigma practice managers and credentials, PMP-certified personnel, EVMS internal business practices, and DCAA-compliant accounting system and practices. BMA's approach to delivering quality services on contracts is based on mature management processes and a tightly integrated support infrastructure.